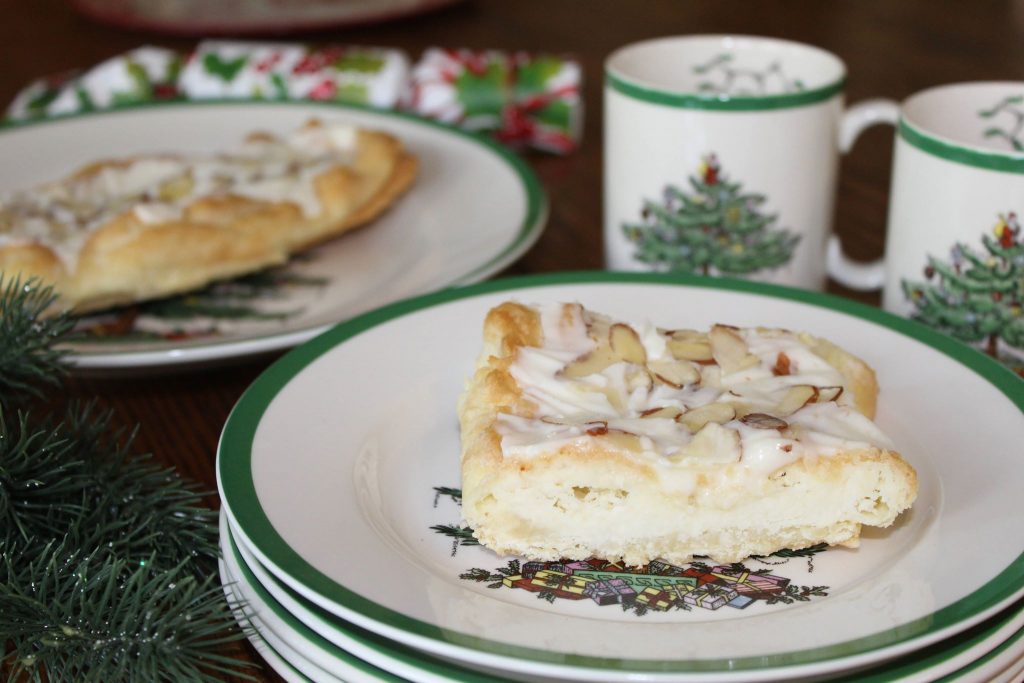 I first had kringle at the Landmark Center in St. Paul. My mom, Grandma Marilyn, and I visited their beautiful Christmas Bazaar in early December for years. I had to play around with different versions of kringle to find the one that was exactly the way I remembered. This Christmas, sit down and relax with some kringle and a mug of coffee or tea.
Swedish Kringle
Ingredients
Part 1: Butter Crust
1/2 cup butter
1 cup all-purpose flour
Pinch of salt
2-4 Tbsp. ice water
Part 2: Topping
1 cup water
1/2 cup butter
1 cup flour
3 eggs
1 tsp. almond extract
Part 3: Frosting
1 cup powdered sugar
1 Tbsp. soft butter
1/4 tsp. almond extract
1-2 Tbsp. half-and-half or milk
Sliced almonds, optional
Preheat oven to 425 degrees. To make the butter crust, mix the flour and salt together in a medium bowl. Cut in the butter until the mixture forms coarse crumbs. Stir in cold water until a dough forms. Divide the dough into two balls then pat the dough onto a buttered cookie sheet into two 3X14″ strips.
To make the topping, bring the water and butter to a boil in a medium saucepan over medium-high heat. Add the flour and stir until smooth. Remove from heat and beat in the eggs, one at a time. Add the almond extract. Spread the topping evenly over the two strips of dough.
Bake the kringle for 15 minutes at 425 degrees, then decrease the temperature to 400 degrees and continue to bake for another 30 minutes. The strips will puff up and turn golden brown. Transfer to a wire rack to cool for 10 minutes, then slide onto the rack. The topping will collapse and turn into filling. Cool completely before frosting.
To make the frosting, stir together the sugar, butter, and almond extract in a small bowl. Add the milk, drop by drop, until the frosting reaches a medium consistency. Drizzle over the cooled kringles and let set. You can also sprinkle sliced almonds over the kringles if you'd like.
Cut the kringles into 1″ strips for serving.